Original message --> posted by English Teacher John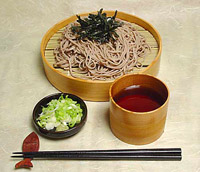 Wow! I ate A LOT of soba yesterday!
Tomoko and I went to the Soba Festival at Matsumoto castle. There were many restaurant 'stalls' there. They made a lot of soba, and I ATE a lot of soba. It was really good!
I like cold soba and hot soba. Yesterday I had one plate of cold soba and one bowl of hot soba. We also ate some o-yakis!
There were many people at the festival. I think everyone was hungry and wanted to eat a lot of soba!
In English, soba is called 'buckwheat noodles.'
DID YOU GO TO THE SOBA FESTIVAL IN MATSUMOTO YESTERDAY?